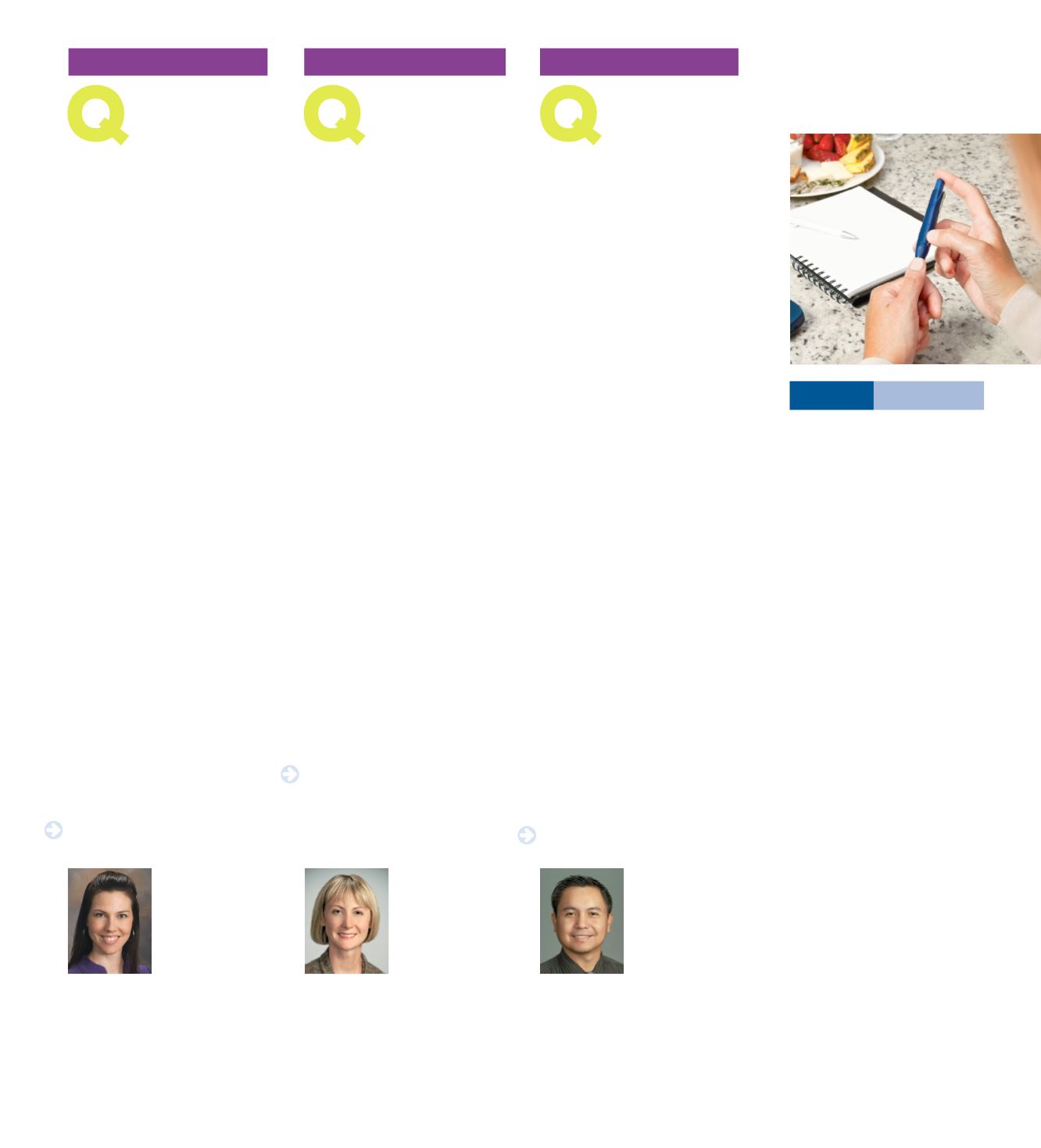 I have diabetes,
and I'm concerned
about my vision.
What can I do to keep my
eyesight?
A
Diabetic retinopathy is the
leading cause of blindness for
those with both type 1 and type 2
diabetes. Other eye disorders, like
cataracts and glaucoma, occur earlier
or more frequently in patients with
diabetes. It is important to keep your
blood sugar, blood pressure, and
cholesterol under control to preserve
your vision.
■  ■
Monitor changes in your eyes by
getting a yearly dilated eye exam. An
ophthalmologist or optometrist who
is experienced in diagnosing diabetic
retinopathy should perform the
examinations.
■  ■
Keep your A1C level—the average of
your blood glucose during the previous
three months—under 7 percent. That
decreases the damage to delicate blood
vessels around the eyes.
■  ■
High blood pressure can also cause
eye blood vessel damage. Keeping blood
pressure at 139/89 or under decreases
the chance of vision impairment.
■  ■
Keep your cholesterol at acceptable
levels by eating less-fatty foods,
exercising, and considering cholesterol
medications if they don't cause
complications.
Following these measures will help
prevent damage in your eyes and keep
your vision healthy.
HEALTHY EYES
Gerard Sebastian, MD
Internal Medicine
PeaceHealth Medical Group
1615 Delaware St.
Longview, WA
360-501-3601
I'm concerned
about my child's
weight. What can I
do to help?
A
If parents are worried about
their child's weight, it's first
important to review the entire
family's nutrition and lifestyle.
Children often follow a parent's
example. It's the most important
influence in their lives.
Pay attention to the foods you buy
for your kids and what you eat as a
family. Avoid junk food, sugar, fats,
and chemicals. Limit portions and
snacks.
The most powerful way to improve
your child's health is to be a good
example and do things as a family.
With older kids, read stories on
healthy living, plan or cook meals
together, take walks, go bike riding, or
join a gym.
Motivate one another to be active.
Avoid too much TV and telephone
time. Get outside, and spend quality
time together.
Make sure to talk with your child's
doctor and request resources for
improving the child's overall health.
And find out how your child feels about
his or her image and self-esteem.
Most important, be encouraging.
Praise your child along the way when
you see positive changes, and reward
good behaviors. This will help inspire
your child to succeed in lifelong
changes for a healthy future.
Lacey Carpenter, PA-C
Pediatrics
PeaceHealth Medical Group
1615 Delaware St.
Longview, WA
360-414-2385
KIDS AND WEIGHT
Am I more likely to
get breast cancer
if I use hormone
replacement therapy for my
menopause symptoms?
A
The Women's Health Initiative,
which began in the early
'90s, was groundbreaking research
on women's health. However, it
left many women concerned about
using hormones to treat their
perimenopause and menopause
symptoms.
Researchers have since looked
further into the data along with more
recent research results.
The conclusion is that for women
who are within 10 years of menopause,
below the age of 60, and without risk
factors, there is a low likelihood of
getting breast cancer.
The recommendation is for use of
HRT for no more than five years. For
women over the age of 60 or more
than 10 years past menopause, the
risk of cancer and other complications
increases. HRT is not recommended
for this age group.
Everyone is unique, with differing
health and wellness priorities. For you,
it's best to have a women's health care
specialist review your health history
and wellness goals to see if HRT is the
right choice.
HORMONE THERAPY
Gretchen Schwinn, CNM
Women's Health
PeaceHealth Medical Group
1660 Delaware St.
Longview, WA
360-414-2800
Diabetes
Education
Classes
When:
Mondays
Jan. 9 through 30, 1 to 3 p.m.
Feb. 6 through 27, 5 to 7 p.m.
March 6 through 27, 1 to 3 p.m.
April 10 through May 1, 5 to 7 p.m.
Where:
PeaceHealth Medical
Group–Internal Medicine,
1615 Delaware St., Longview, WA
Info:
Four-week diabetes
education series covers meal
planning, medications, and
diabetes self-management
options. A physician referral is
required.
JOIN US!
Learn more about women's health
at
peacehealth.org/phmg/
longview/obgyn
.
For more options about kids and
parenting, check the calendar on page 6.
For more options about diabetes,
check the calendar on page 6.
peacehealth.org
5