8 / 8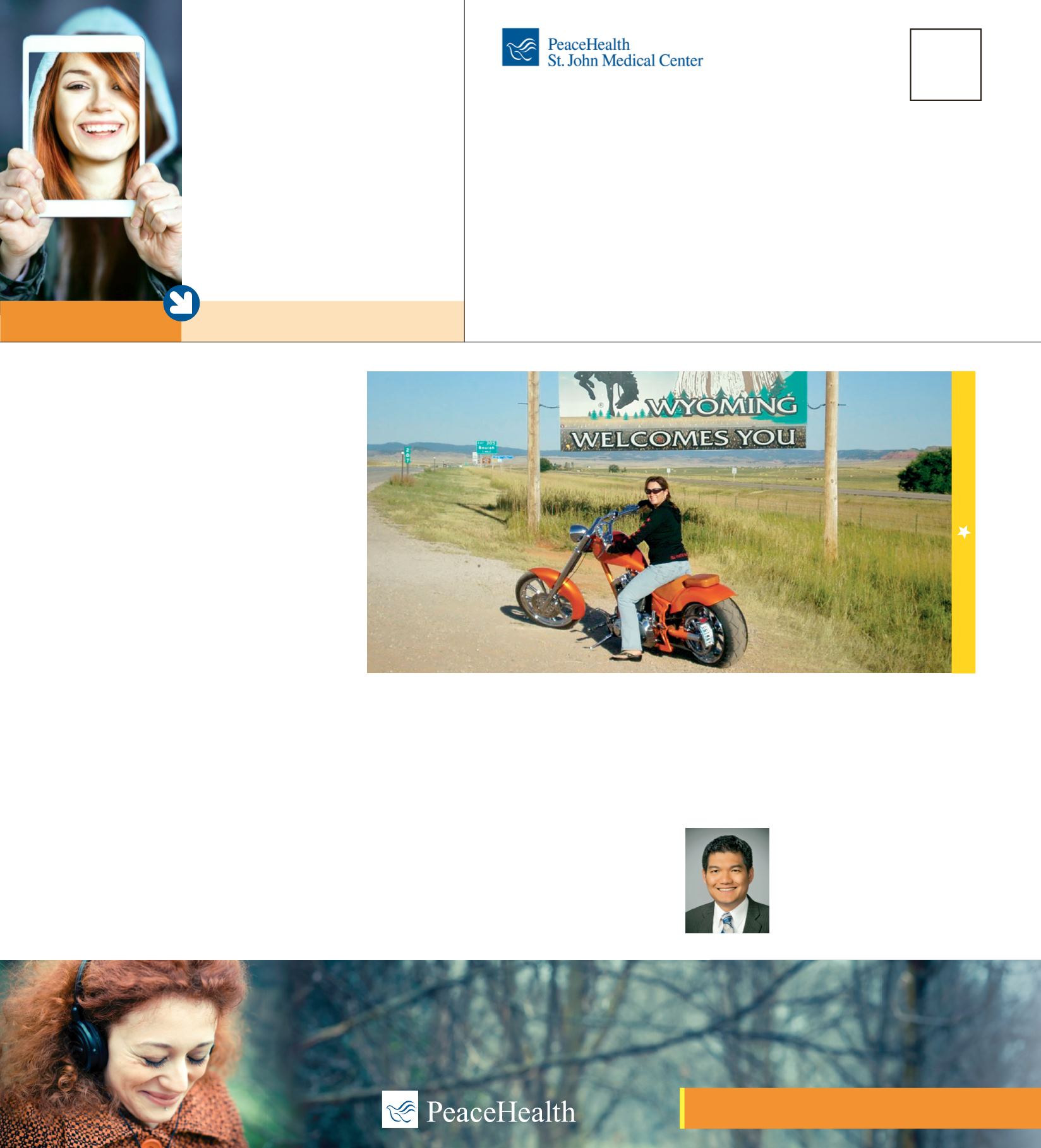 Saturday, Feb. 25, 9 a.m. to 4 p.m., at
PeaceHealth Medical Group–Lakefront
A simple screening can detect heart
conditions such as hypertrophic
cardiomyopathy, the most common
cause of sudden death in athletes.
A donation of $25 to Spencer's
HeartStrong Foundation is welcomed
at the event.
Online registration is required at
stopyouthsca.org
.
Revving up
heart health
K IM CARROL L ,
a vibrant 49-year-old, is the
picture of health. She watches her diet and enjoys a
variety of exercises—walking; running; boot camp;
yoga; Zumba; and keeping up with her sons, ages 14
and 20. She's the last person anyone would expect
to have a major health challenge, especially a heart
attack.
That's why it came as such a surprise when
her heartburn turned out to be a heart attack.
Kim and her husband, Jerry, came home from a
Harley Davidson Rally in Sturgis, South Dakota,
after having fun and eating some not-so-healthy
foods. That night she began to experience a burning
sensation and thought it was heartburn.
It didn't go away. After three days, she called her
PeaceHealth provider, Simon Lai, MD, and talked
with the clinic nurse, who thought she might be
having a heart attack and recommended she take
an aspirin and get to the emergency department.
Thinking it was still heartburn and the pain would go
away, she didn't take the aspirin or go to the ED.
The next morning, she felt pretty good, went into
the kitchen, and…bam! Her whole chest felt like it
was on fire, and she felt a burning pressure radiating
Chi-Gang Yen, MD
Cardiology
PeaceHealth Medical Group
1615 Delaware St.
Longview, WA
360-414-2730
up to her throat and down her arms. She couldn't
take the pain one more day and went to the ED at
PeaceHealth St. John Medical Center.
The diagnosis was heart attack, and Kim was
prepared for surgery with PeaceHealth cardiologist
Chi-Gang Yen, MD, who performed an angioplasty,
putting a stent in her artery to improve blood flow to
her heart.
After healing from surgery, Kim closely followed
the program set up for her. This included cardiac
rehab at PeaceHealth St. John three times a week.
In a few months, Kim was able to return to her
exercise classes. She also changed to a Mediterranean-
P A T I E N T P R O F I L E
style diet and limited red meat.
"Know your numbers," says Kim. "Know what your
cholesterol is, and listen to your doctors!"
She's grateful for the care she received at PeaceHealth
St. John and looks forward to many more years sharing
her life's journey with her husband and their sons.
Free Teen Heart
Screening
Keep your beat.
peacehealth.org/heart
SJL
Recycle me! Share this mailer with others, and recycle when finished.
Nonprofit Org.
U.S. Postage
PAID
Portland, OR
Permit No. 2901
PO Box 3002
1615 Delaware St.
Longview, WA 98632