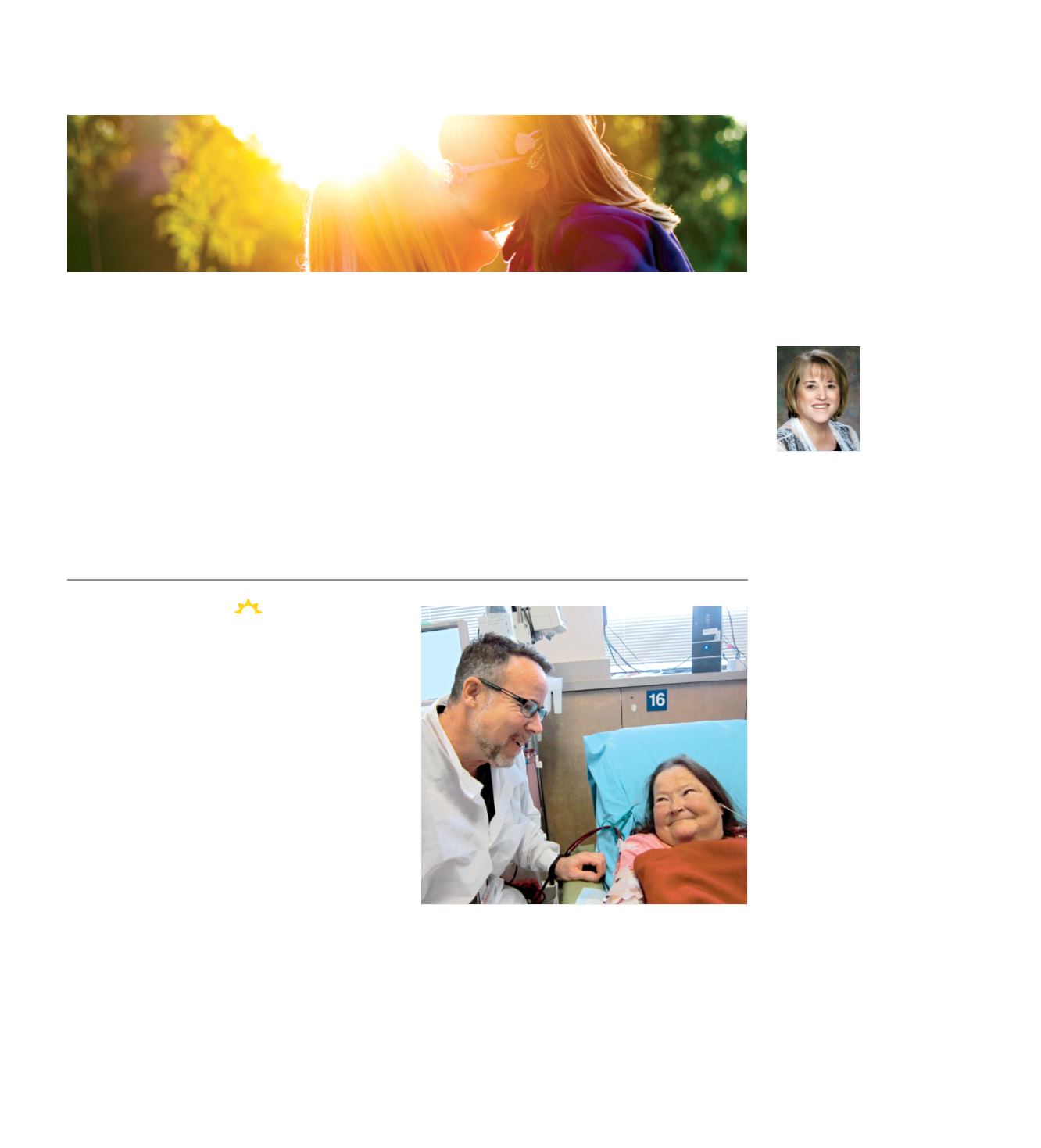 I T I S
a new year and a great opportunity to thank you—
our donors, our volunteers, our caregivers. This community
has overwhelmingly supported our PeaceHealth St. John
Medical Center Foundation since its inception in 1986.
Every time I sign a thank-you letter, make a phone call to
a donor, or meet with one of our many generous community
members, my spirit is filled with gratitude. Each day brings
a new challenge and a new opportunity to support our
MAK I NG HUMAN L I F E
better by promoting peace,
prosperity, gladness, and hope is a core part of the Fraternal
Order of Eagles' (FOE) mission.
Because its mission beautifully parallels the mission of
PeaceHealth St. John Medical Center, the FOE has been
a loyal donor to our Foundation for many years.
"The Eagles' long-standing support and partnership
sustain us and help provide the best possible care
to citizens of the Lower Columbia Region," says Cathy
Barr, PeaceHealth St. John Foundation Executive
Director.
Collectively, the FOE donates more than $10 million to
local communities annually.
Last year through gifts to the PeaceHealth St. John
Foundation, the FOE Auxiliary, Castle Rock Aerie #556,
made it possible for the medical center to purchase:
Cathy Barr, CFRE
Executive Director
PeaceHealth St. John
Medical Center Foundation
360-414-7900
cbarr@peacehealth.org
Enter 2017
with gratitude!
caregivers, our patients, our friends, and our families.
The impact of donor support on the availability of
health care resources in our community may surprise you.
Resources like A Child's Place, the Dialysis Center, Lower
Columbia Regional Cancer Center, and the Women's
Health Pavilion would not have been possible without your
philanthropic support.
It is the mission of PeaceHealth St. John Medical Center to
provide these critical services for our community members
who need us every day. It is the mission of the Foundation to
provide the funds to make critical services possible.
Thank you to all of our donors for joining with us to better
serve the health care needs of our community. I hope that
2017 is a year of good health and prosperity for you all.
Eagles help
carry on the
mission
■  ■
Holter monitors to help cardiologists diagnose life-
threatening arrhythmias or identify necessary medication
adjustments.
■  ■
Peritoneal dialysis belts to secure the dialysis catheter at
the exit site and reduce the chance of infection.
With generous support from donors like the FOE,
PeaceHealth St. John Foundation can continue to support
the medical center in providing exceptional care.
D O N O R - S U P P O R T E D
peacehealth.org
7